Cooks in:
25 Minutes
Serves:
2 People
Hot and spicy idlis fried in oil with milagai podi, best lunch box snack for kids.
Ingredients:
12 Millet Idlis cut into 4
3 tbsp Idli Milagai Podi
4 tbsp Sesame oil
1/2 tsp Mustard seeds
1/8 tsp asafoetida
a few Curry Leaves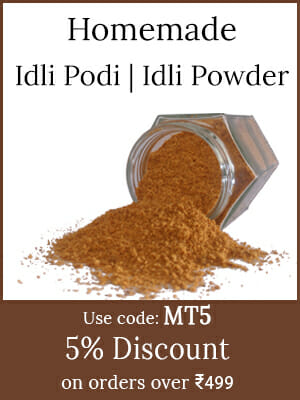 Directions:
Heat oil in a pan.
add mustard seeds and let them pop up.
add asafoetida and curry leaves.
Keeping the heat at lowest temperature, add the podi. saute for 10 seconds.
Add the cut idli pieces and thoroughly mix so that the podi coats on the idlis evenly.
Saute for 5 minutes by turning the pieces slowly.
Serve warm or pack in the lunch box.
We are sorry that this post was not useful for you!
Let us improve this post!
Tell us how we can improve this post?
Subscribe and receive new recipes via email