Cooks in:
50 Minutes
Serves:
6 People
Ragi is a very good source of calcium, fibre, iron and other micro nutrients. Dates are rich in dietary fiber, which prevents LDL cholesterol absorption in the gut. Additionally, the fiber diet works as a bulk laxative. It, thus, helps protect the colon mucous membrane from cancer-causing chemicals binding to it in the colon. Bananas are again a rich source of fibre and potassium. When all these are put together to make a cake, the result is a very healthy bake! This recipe is Vegan and no processed sugar is added. The fruits give a mild sweetness which is perfect for a tea time snack.
Ingredients:
1.5 Cups Sprouted Ragi Flour
3 Ripe Bananas
1/2 Cup Dates Puree (20 pitted dates made into puree by adding 5 tbsp vegan milk)
1/3 Cup Sunflower Oil
1/3 Cup Vegan Milk
1/4 Cup Cocoa Powder
1 Flax Egg (1 tbsp flaxseed powder mixed with 3 tbsp water)
1 Tsp Vinegar
1 Tsp Vanilla Essence
3/4 Tsp Baking Soda
3/4 Tsp Baking Powder
3 Tbsp Almond pieces
3 Tbsp Choco Chips
A Pinch of Salt

Directions:
Dry roast ragi flour on low heat for 5 minutes. Let it cool.
Preheat oven for 15 minutes at 180 degrees. In a small bowl, mix flaxseed powder and 3 tbsp water. Keep aside for 10 minutes to form egg. Add vinegar to milk and keep aside for 10 minutes.
Sift together ragi flour, cocoa powder, salt, baking soda and baking powder 4 times.
In a wide bowl mash the bananas well with a fork. Add dates puree, curdled milk, oil, vanilla essence to combine well.
Add the sifted flour in batches. Use cut and fold method to combine everything. Add choco chips. Do not mix too much.
Transfer the prepared batter into a baking tray. Sprinkle almond pieces. Bake for 35 to 40 minutes. Do a toothpick test. If it comes out clean, then remove and allow it to cool. Otherwise bake for a few more minutes depending on the wetness.
If you want to make cup cakes, then pour the batter in cup cake moulds and bake for 20 minutes.
Note:
The sweetness comes from dates and banana. Use well ripe bananas. If you want, can add more dates for a sweeter version.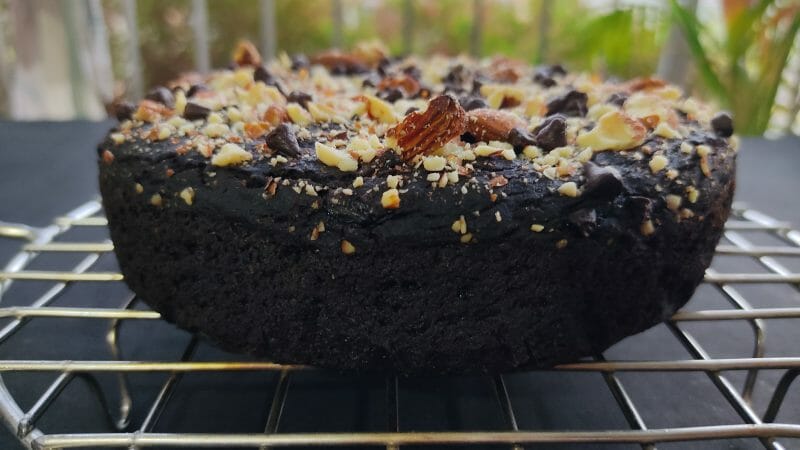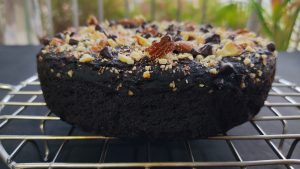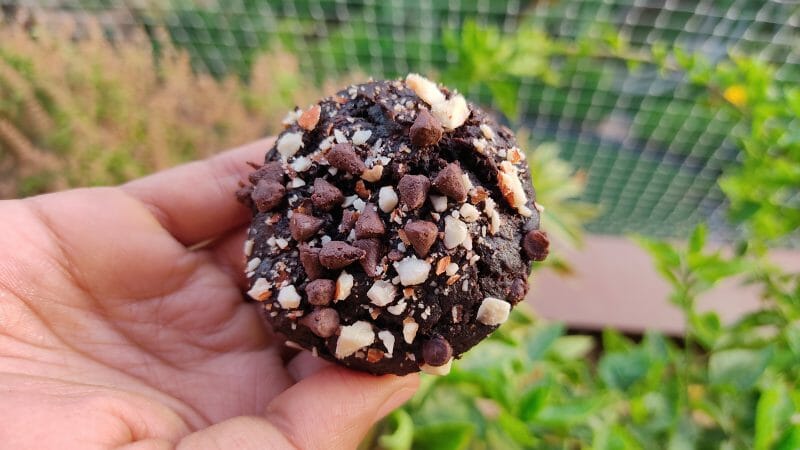 Subscribe and receive new recipes via email
We are sorry that this post was not useful for you!
Let us improve this post!
Tell us how we can improve this post?