Cooks in:
30 Minutes
Serves:
3 People
Thrivadhirai or Arudhra Dharisanam is a festival celebrated in the month of Margazhi on Thiruvadhirai Star which usually falls on Full Moon Day. This festival is dedicated to Lord Shiva and in Chidambaram it is celebrated in a grand manner in 5 sabhas. In Thillai Chidambaram 10 day Festival is held during Thiruvathirai. On the 9th day night (i.e., 10th day very early morning) Maha Abhishekam will be done to Lord Nataraja and Goddess Sivakamasundari at Raja Sabhai at around 3 am. The MahaAbhishekam will be held for about 3–4 hours. Then special Thiruvabaranam (Sacred Jewels) Alankaram, Rahasiya Pujai will be done to Sri Natarajar. Pancha Murthi Thiruveethi Ula, will be held at around 12 pm Noon. Soon after Pancha Murthi Ula in the afternoon Lord Natarajar and Goddess Sivakami will bless devotees with Aarudra Darisanam and enter Kanaka Sabhai. KaLi and kootu are made as Prasadam in every household and offered to Lord Shiva in the wee hours. This year, the festival falls on 10th of this month and I thought this millet version will be useful for many. Try this traditional recipe using millets and enjoy the festival.
Ingredients:
1/2 Cup Little Millet/Samai
3/4 Cup Jaggery
1/4 Cup Grated Coconut
1 Tbsp Chana Dal
1 Tbsp Moong Dal
2 Tbsp Ghee
2 Tbsp Ghee roasted Cashewnuts
1/2 Tsp Cardamom Powder
1/8 Tsp Salt

Directions:
Dry Roast Millet and dals till nice aroma. Cool and grind to fine grits. This will be approximately 3/4 Cup.
In a vessel add millet grits , 1.5 cups of water and mix well. Keep aside for 5 minutes. Drain using a tea filter to remove the water.
In a cooker add jaggery and 1.5 cups of water. When it completely melts and starts boiling, switch off and strain the impurities. Add this water to the washed millet and mix without lumps.
Add cardamom powder, ghee, salt and grated coconut to the mixture. In the same cooker add a cup of water and place the millet mixture vessel. Cook for 7 whistles. Switch off.
Let pressure settle down. Open and mix thoroughly. Add cashew nuts . Serve along with thalagam/kootu.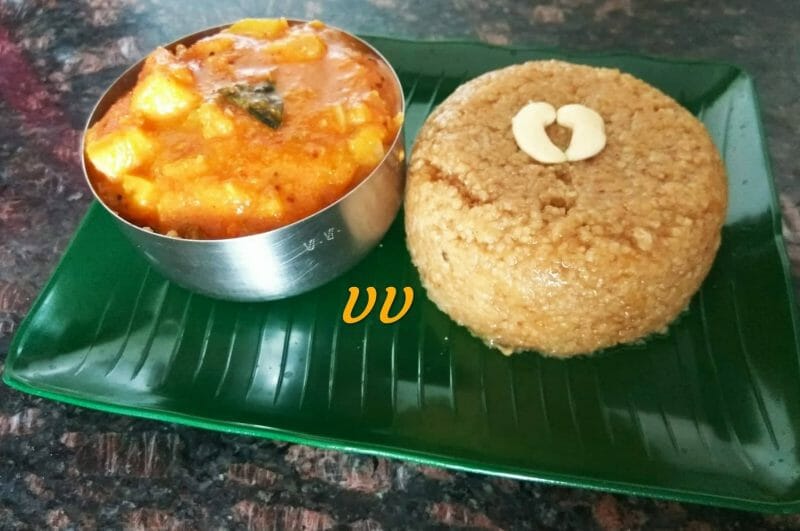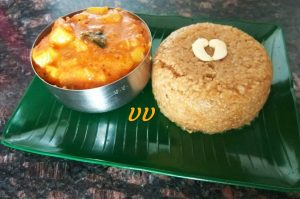 Note:
Other millets like Foxtail, Kodo, Barnyard or Proso can be used for this recipe.
Adjust jaggery qty according to your taste.
Click here or picture below to buy a Mixed Millets Combo Pack of 5.
Subscribe and receive new recipes via email
We are sorry that this post was not useful for you!
Let us improve this post!
Tell us how we can improve this post?